Security Guard Break Management: Avoid Compliance Violations that Could Impact Your Operations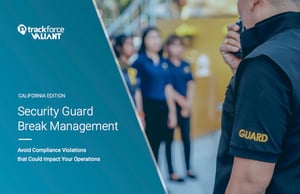 Meal and break violations can be costly for any California business. Yet, why should security operators be concerned about ensuring their guards take their breaks?
California meal and break violations are costly — $100.00 for each underpaid employee and more. Navigating California's labor laws can be quite a challenge if executed on your own.
The Trackforce Valiant team put together our latest ebook covering all the ways security operators can improve their margin and reducing the risk of violating California's meal and break laws.
What you'll learn:
Preventing Open Door Violations to California's Rest and Meal Break Laws
How California's Rest and Meal Break Labor Laws Impact Hourly Guards
Connecting Guard Activity to Hours Worked for Proactive Break Management
Steps to Avoid Compliance Violations that Could Impact Your Company